3 Movie Night Party Ideas
Organising a movie night party for your child's birthday? Here's a list of 3 Movie Night Party Ideas to give you some food for thought.  Here you will find suggestions for party bags and games, after all here at All About Party Bags.
Star Wars movie night
The Star Wars franchise is a great choice for movie night party ideas.  People from a wide range of ages,  from young children all the way to adults enjoy these films which makes them  a great way for parents and children to bond.
A Star Wars themed birthday party provides options for lots of fun games and activities that you can do. Firstly there's fancy dress, in addition to the awesome films there are many other difference sources for inspiration including The Clone Wars cartoons, the Rebels cartoon, the spin offs, the books, and the comic books.
Are you looking for a fun party game?  With just a little bit of creativity you can transform typical party activities into Star Wars themed party games. You could think about making a Death Star piñata. A piñata is typically made from paper mache and contains candy or toys, our party bag fillers section provides plenty of options. In addition to this decorate a piñata stick and transform it into a lightsaber, take turns attacking the piñata until the treats are released.  Alternatively our Self Inflating Light Saber could make a fantastic piñata stick.  An other idea could be to play pass the parcel with one of our ready made games, we have a wide range that kids adore.
With a Star Wars themed party, it's easy to get carried away with decorations, party games and activities, but don't forget about party bags. In our collection of over 500 pre-filled readymade party bags to choose from, there are lots of sci-fi themed party bags including space and aliens and monster ranges.
Disney movie night
There are lots of Disney films to choose from when organising a Disney themed birthday party for your little one.  You may like a Disney princesses theme in which you could decorate different areas of the party venue with pictures of a specific princess using colour associated party decorations.   For example, blue for Cinderella, yellow for Belle, and Pink for Sleeping Beauty.
Disney is a great idea for a film party because due to the popularity of Disney films, there are lots of readymade themed party foods to choose from which include themed birthday cakes.  If however you're up to the challenge of making your own cake for the birthday party there are lots of delicious cake recipes from the official Disney Family website. For example, an easy to make Mickey Mouse cake, a Lion King Cupcake Cake, and much more.
With regards to the choices for party bags, you could decide to make your own and browse through our selection of princesses & fairies collection of party bag fillers, however if you would like to save time and purchase readymade party bags, we recommend products such as the Princess Sticker Party Bag or the Filled Pink Princess Drawstring Party Bag.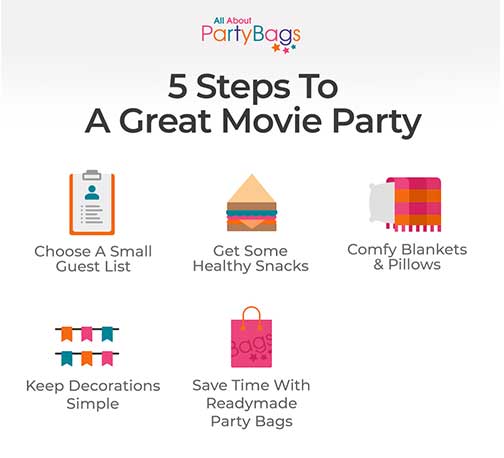 SuperHero movie night
Children will adore a movie night party focused on their favourite comic book Superheroes.  We have been spoiled for choice in the past decade so far as Superhero movies are concerned, from Captain America & Thor in 2011 through to Captain Marvel in 2019. In-between we have had Avengers, Spider Man, Black Panther, Ant-Man and of course Wonder Woman.
For those interested in a trip to the cinema as a part of the birthday party celebrations, last year didn't exactly go to plan.  2021 however is set to be a very exciting year in the world of comic book movies. This month (July) sees the release of Black Widow with Scarlett Johansson, a powerful heroine we love to watch. In December Spider-Man in No Way Home also hits the big screen. Sit back and watch your children learn how to be brave and recognise good always wins over bad.
Don't forget about party bags, our online store has both readymade options and party bag filters for superheroes. You can choose from readymade party bags such as the Filled Super Hero Loot Bag, Super Hero Action Party Bag and The Super Hero Girls Party Bag.  In addition to these we stock an  extensive range of Superhero themed party bags fillers such as Super Hero Tattoos, Super Hero Note Books, Super Hero Gliders.  If your time is short there are also lots of themed filled bags to choose from.