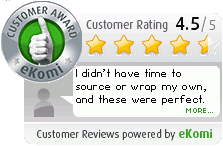 Party Bags, Fillers & Toys for Children
Click here for party inspiration, free printables and much more!
We take their creation very seriously - from sourcing good quality, stylish products right through to their creation. Not only is our range of party bags large, the contents are so worth having - they will not be found on the floor of the car by the end of your guests' journeys home! With well over 500 pre-filled bags available, we believe we have the widest choice in the UK.
Fancy filling your own party bags? All of our party bag fillers are available to buy separately. We have a fantastic range to choose from, and everything is tried and tested by children in our own Play Centre. We only sell fillers that we know children enjoy using - over and over again.
Also referred to as childrenís wedding favours, these are constantly being discussed on wedding forums, and brides canít recommend them enough, having discovered that they provide that necessary distraction during the speeches! Our wedding activity bags are exceptionally good value and are designed to co-ordinate with your colour scheme.
From our Blog
We also sell empty bags, boxes and stockings (if you prefer to make up your own bags or boxes) and ready-made pass-the-parcels, games, table settings and party accessories.
Sit back and enjoy - yes, we believe you really will! We continuously work hard to make our website as user-friendly as possible. And we donít want you to have any surprises! Our pictures are large and totally honest. What you see is what youíll get. We never make substitutions and you will never find that what you have ordered is out of stock Ė as a consequence, we have many happy returning customers. And we know that our customer service is second to none by the amount of kind comments we receive.